Sant Jordi (Saint George) is one of the most important Catalan tradition held every 23rd of April, where love and culture are widely celebrated. The reason why it is so important lays in the fact that Saint George is the official saint of Catalonia, keeping in touch with the iberian tradition to enrol an official saint to every territory, no matter if city or region.
If you let yourself into Barcelona streets, you will have the chance to see locals gifting roses and books to their beloved ones, feel a unique atmosphere, and, surely, enjoy the warmer Spring sun. The tradition stands that men should give a rose to those women who he cares about (mom and girlfriend are absolutely mandatory) while girls do the same with books to men. Nonetheless, this have been changing among the years and it is pretty usual already to give a book together with a rose (beauty and intelligence can obviously combine, and in case you doubt it, have you ever seen our president Anna Bacardit? So that's the point).
In order to provide a deeper emphasis to its origin, take the chance to know from where did all begin here. It is a lovely legend that surely every Catalan knows and will explain you enthusiastically.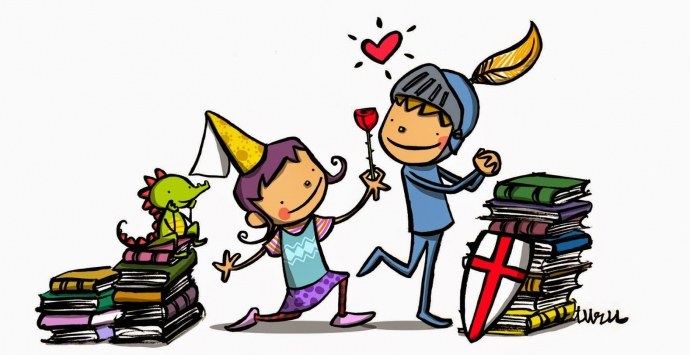 However, it is more important to know how you can live this day to its fullest.
To begin, stroll along some of the most typical streets and spots. We recommend you to go by las Ramblas and Passeig de Gràcia, where you can spot Casa Batlló dressed beautifully with plentiful of roses on its balconies, creating you the chance to take a picture from a unique perspective of the building. This is to present a tribute to the inspiration Gaudí took when designing it, the Sant Jordi's legend itself.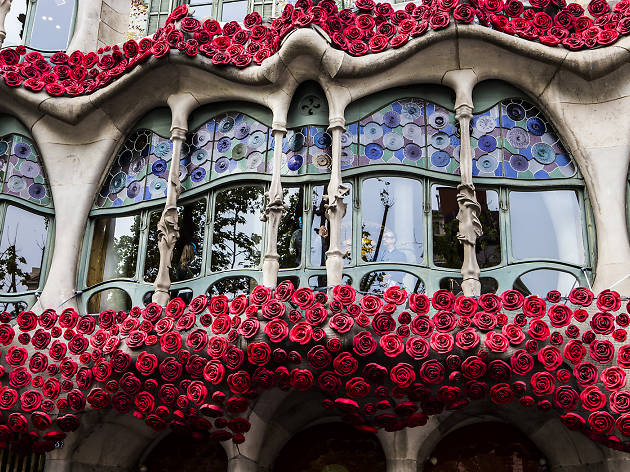 Curiously enough, you may also see PUF all around, our mascot. That is because Sant Jordi killed the dragon to save the princess. However, our PUF is not dangerous at all and definitely charming.
We recommend to take your time, specially taking into account that the amount of people walking all across either "Las Ramblas" or "Passeig de Gràcia" will be considerable. Either way you must definitely go too and, specially, buy a couple of roses and books to those who you care most (maybe that special friend of your erasmus or someone from your home country) or even just to yourself, come on! You deserve it, and it is a great excuse to begin to learn the local languages and culture if you have not ;)
There is also another magnificent event called: "els Jocs Florals". This tradition lasts since the medieval times although there has been many disruptions among these centuries (it dates exactly from 1323, created first in Toulouse from where it spread to all Catalonia). Culture and, specially literature, is the main pillar in this day and, along with it, many of the catalan writers compete to see who is the one who wrote the best poem for that day. The name "jocs florals" means "the flower games" and it is a reference to the upcoming spring, nice weather and the rebirth of the flowers.
Interestingly, this literary contest has been exported to schools. Every year, kids present poems or stories for the opportunity to win, a way to involve and encourage them to embrace art. They are usually given a rose as a prize, and, luckily, books or even money. This year, ESN Barcelona, following its natural course, has started this beautiful tradition to invite all Erasmus to participate in this experience. This Tuesday 24th of April, one day after all the hype from Sant Jordi, prizes will be given during Tandem. Who will be the Sant Jordi princess or knight to win? Do not miss out this cultural Tandem!
Moreover, in most bakeries you will find 'Pa de Sant Jordi', a bread made of cheese and 'sobrasada' that, when cut, the bars from the catalan flag are portrayed. Art comes in all shapes during this day!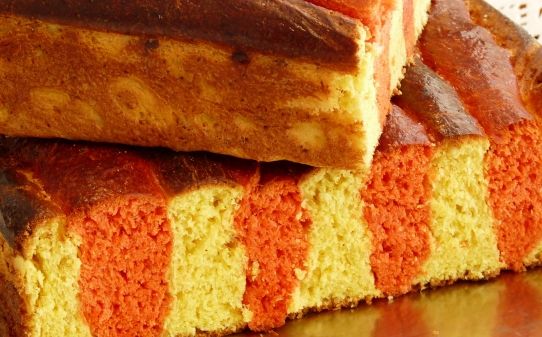 Finally, from all ESN Barcelona UPF team we wish you a happy Sant Jordi, hope you get the most out of this day, and eventually love it as much as we do. Get your rose and book and spread love and culture.
ESN Barcelona UPF team
Photo 1: Princess and Knight (via tarragona.cat)
Photo 2: Casa Batlló for Sant Jordi (via Timeout)
Photo 3: Pa de Sant Jordi (via cuina.cat)